Wellness Weekend has brought you a free Skin and Hair Consultation at Ayurcentral Chandra Layout Clinic this Saturday.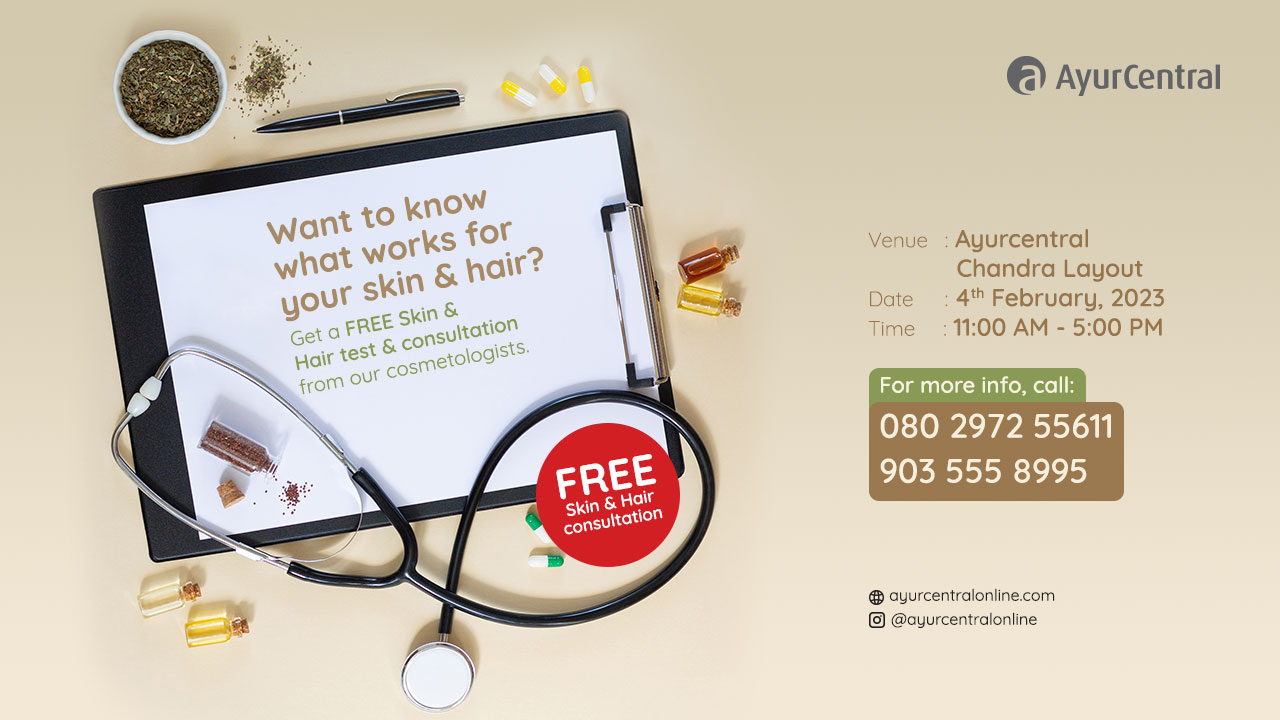 Do you struggle to find the perfect skincare routine for your skin type? Or, are you tired of experimenting with different hair products without any success? Ayurcentral is here to help you!
We understand the importance of having healthy skin and hair, and that's why we're excited. To give you a FREE Skin and Hair Consultation at our Chandra Layout Clinic. This Saturday, our expert Ayurvedic cosmetologist will help you understand your unique skin and hair type and recommend personalised solutions to help you achieve your beauty goals with a Skin and Hair test.
The test includes an in-depth analysis of your skin and hair, taking into account factors such as your diet, lifestyle, and environmental exposure. Our doctors will then recommend a customised skincare routine and hair care regimen that's tailored to your specific needs.
At Ayurcentral, we believe in the power of Ayurveda to promote natural, radiant beauty. We also believe in ensuring natural and accessible healing for all our customers. Our products are made with all-natural ingredients, free from harsh chemicals and synthetic preservatives. Our skincare and hair care brands are formulated to nourish and protect your skin and hair from within, helping you to achieve a healthy, glowing complexion and lustrous locks. This is a golden opportunity you shouldn't miss.
If you are suffering from acne, dandruff or other skin and hair issues, this is the right chance for you to get treated naturally. Don't wait around. Book your FREE Skin and Hair Consultation today and unlock your true beauty! Don't miss out on this opportunity to transform your skin and hair.
Call us to book your appointment now at Chandra Layout Ayurcentral clinic and take the first step towards a healthier, more beautiful you. Details are given below.
Call us at 080 2972 55611, 903 555 8995
Follow us at @ayurcentralonline (Instagram) and @AyurCentral (Facebook) for regular Ayurvedic updates.