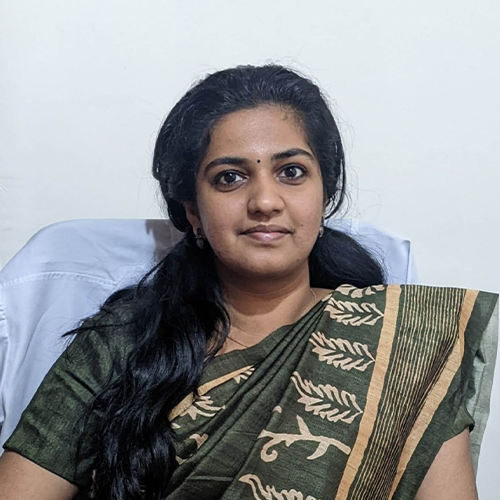 Specialtie(s): Metabolic And Lifestyle Related Disorders, Gastro And Digestive Care, Women'S Health, Skin And Beauty, Respiratory Conditions, Allergic Conditions, Pain And Joint Care, Detox Procedures And Rejuvenating Therapies
Registration Number: 33089
No of patients served: 1500+
Language(s): Malayalam, Kannada, Hindi, English 
Dr.Anjali is a highly enthusiastic and proficient Ayurvedic physician with an experience of 8yrs. Her core specialisation is in the subject of Dravyaguna (Materia Medica and Clinical Pharmacology) from Sri Sri College of Ayurvedic Science and Research, Bangalore.
She believes that the body should be helped to cure itself, and that Ayurveda is the finest technique to activate the body's healing energy. Dr.Anjali is an expertise in treating Metabolic and Lifestyle Related Disorders, Gastro and Digestive Care, Women's Health, Skin care, Hair care & Beauty, Respiratory conditions, Allergic Conditions, Pain and Joint care, Detox Procedures and Rejuvenating Therapies. She intends to investigate and revitalise the science of Ayurveda by incorporating complementary healing methods.
Aparna Rajesh
Visited For Ayurvedic Treatment
This was my second consultation with Dr. Samantaray in 1.5 months, given my Anemia and borderline Hypothyroidism and I am very pleased with how I have been gradually healing with the aid of his medications. He is never in a hurry and listens mindfully for an effective resolution to my health issues. I'm looking forward to more healing.
Ranjita Shetty
Visited For Nasyam
Doctor understands what we want to say about our health issues and what we are suffering and according he advises us the investigation and medicine. His calm and understanding approach is really amazing. It gives us a hope that everything will be fine.
Akshay Jaiswal
Video consultation done For Digestion Problem
He understood my problem and explained the root cause of all my problems are related to the unnecessary stress I take. He also explained what type of person I am as per the Gunas in Ayurveda. I was able to relate to all of it. I am seeing some improvements within a month and am hopeful to get better with time.
Kashi viswanath nethi
Visited For TREATMENT FOR PSORIASIS & ECZEMA
Dr. Manoj is very friendly and listens to the problem. He looked at skin condition, itchy symptoms, flare-up triggers, and root caused the issue on the first visit itself. He prescribed a few Ayurvedic medicines, Panchakarma (Virechana kriya). Also, suggested diet and dhyana practice. My Psoriasis health is solved within the ~6months. As per my overall experience, Dr.Manoj is very good and recommended for the health issue.
Book an Appointment
You will get a confirmation call from AyurCentral to the phone number you provided below.
Buy from a store near you