Constipation is a common intestinal problem characterized by irregular bowel m...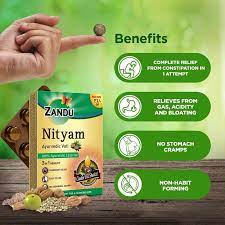 Zandu Nityam Vati is an ayurvedic medicine prepared from powerful ayurvedic herbs highly rated in ancient ayurvedic literature to relieve constipation. These easy to consume tablets are prepared exclusively from herbal ingredients and contain no added artificial flavors or lab made ingredients. Zandu Nityam Vati is the best medicine to relieve constipation because it is designed to cause a single stimulated offload of undigested food residue in the abdomen. It also completes this action without causing any harmful side effects to the abdomen. This action is made possible exclusively by using herbal and natural ingredients. This ensures there are no side effects or harm for consuming this product.
Most medicines which relieve constipation stimulate and moisturize the stomach and intestines. They also regulate the production of gastric bile juice and also enhance digestion. This can cause periodic and recurring bowel movements which in itself can be a major problem. Zandu Nityam Vati is designed in a manner in which the constipated undigested food residue is offloaded in a single discharge for relief. It contains phyto-elements from herbal ingredients which help in binding the ama or undigested food residue in the stomach which is discharge in a single sitting. This unique action makes Zandu Nityam Vati a go to option for constipation.
Zandu Nityam Vati also consists of herbal ingredients like Sanchal, Triphala and Eranda taila which helps in quick relief from bloating and intestinal gas. Gastritis and acidity are conditions which many of us suffer because of over consumption of acidic snacks like vada pav and gol gappa. Zandu Nityam Vati is one stop solution to this problem. It is much healthier and safer than most allopathic medicines popular for offering instant relief from gastritis.
The herbal ingredients in Zandu Nityam Vati also help to enhance digestion and metabolism. This ensures a better absorption of nutrients from the food and also relieves bloating of the abdomen which happens due to consumption of bad food. 
Read about other home remedies for constipation here. If you are too lazy to prepare these medications consume Zandu Nityam Vati for better efficacy.
POWERFUL HERBAL INGREDIENTS
Zandu Nityam Vati is prepared in such a way that each ingredient carries its own specific functions enhancing the overall action and efficacy of this tablet.
One of the primary ingredients in Zandu Nityam Vati is Triphala which is a complete body rejuvenator. This this tablet its primary function is to enhance gut health. Triphala is a combination of three powerful ayurvedic fruits namely haritaki, bibitaki and amalaki.
Haritaki is also added to this tablet independent of Triphala to help in the cleansing of colon. Haritaki is also a powerful immunity booster. Eranda Taila is also a primary ingredient in this tablet. It helps to bind the ama or undigested food residue aiding in relieving the undigested food residue in a single discharge. It also helps in enhancing the intestinal movement.
Sanchal relieves stomach bloating. Yastimadhu soothes the intestine and Swarnapatri eases bowel movement. Saunf is another powerful herb in this tablet which helps relieving intestinal.
The mixture of these powerful herbs in a unique proposition constitutes Zandu Nityam Vati. It offers relief from constipation without causing any abdominal cramps.
SALIENT FEATURES OF THIS MEDICINE
Zandu Nityam Vati is a 100% ayurvedic medicine
It helps in offering overnight relief from constipation.
It initiates action for instant relief from gastritis and related disturbances
It is amongst the best easy to consume medicines for relief from bloating.
It provides relief from acidity in the intestines caused by both enhanced product of gastric juices and that which occurs due to excess consumption of acidic foods.
Consuming many constipation relieving tablets shall become addictive over time. Nityam Vati from Zandu is designed to ensure there is no habit formation.
It has the goodness of 7 ayurvedic herbs renowned to relieve constipation and related symptoms.
DOSAGE
It is normally recommended to consume one or two tablets at a time for instant relief from constipation.
This is largely a one-time action oriented medicine and is generally prescribed for symptom relief and not for continuous use.
It is best to consult an ayurvedic physician to get a personalized dosage and 'how to use' instructions.
SIDE EFFECTS
This is a purely herbal preparation with a direct action and hence causes no side effects when consumed in recommended doses for symptom relief.
However an overdose of this medicine can cause diarrhea, irritable bowel syndrome and might also cause fatigue due to too much consumption.
Click here read about easy remedies for irritable bowel syndrome!
AVAILABILITY
Zandu Nityam Vati is available on our store. Click here to buy!
Take Nityam Churna or Tablets to get rid of constipation and gastric issues. Prepared with seven powerful laxative ingredients along with 1000 years of time-tested solution like Castor oil, triphala, saunf, Nityam churna or tablets gently eases bowel movements and gives you relief from the discomfort of carrying the toxic load.
This effective combination of natural herbs gently cleanses the intestinal walls and flushes all the toxins out of the body. It lubricates and moisturizes the intestinal walls and ensures regular bowel movements. The herbal formulation is safe for regular use and does not cause any cramping or dependency. It is also effective on associated problems like gas, acidity, and flatulence.
Use Nityam Churna for overnight relief and to feel free and active all day long. It is 100% effective and has zero side effects. Clear bowel movement also results in healthy skin, shiny hair and increased activeness.
Ingredients:
Sonamukhi
Shiva
Yashtimadhu
Saunf
Triphala 
Sanchal
Erand taila 
Benefits:
Herbal formula that cleanses and lubricates intestinal walls.
Ensures smooth and regular bowel movement.
No abdominal cramps
Very effective in relieving gas, acidity, & flatulence.
Indications:
Constipation
Intestinal gas
Dyspepsia
Indigestion
Cancer
Gastritis
Insomnia 
Oxidative stress
Cardiovascular disease
Heartburn
Ulcer
How to take?
Adults can take 1 to 2 teaspoon (4 to 8 gm) at bedtime with water (after food). 
Children may be given half tea-spoon or as per doctor's recommendation. 
Please consult an Ayurvedic doctor for precise dosage as per the severity of your condition.
Cautions!!
This medicine is proven to be effective and safe.
If you have any other medical condition(s) or are under any other prescription then please refers to an Ayurvedic practitioner before administering the dosage. 
The product is not recommended during Pregnancy.
Please discuss with your doctor if you are a breastfeeding mother.
It should not be administered in infants.
An overdose of the medication will not improve the symptom rather it may result in serious side-effects.
Side effects
An overdose or wrong administration of the medicine can result in following side-effects. Though these cases are very rare but in case of any doubt, it is best to consult an Ayurvedic expert.
Stomach discomfort
Vomiting
Missed periods
Headache
Water and sodium retention
Hypertension
Nausea