Your child's well-being ensured naturally. Visit Ayurcentral clinics to get Swarnaprashana administered for your infants this Sunday.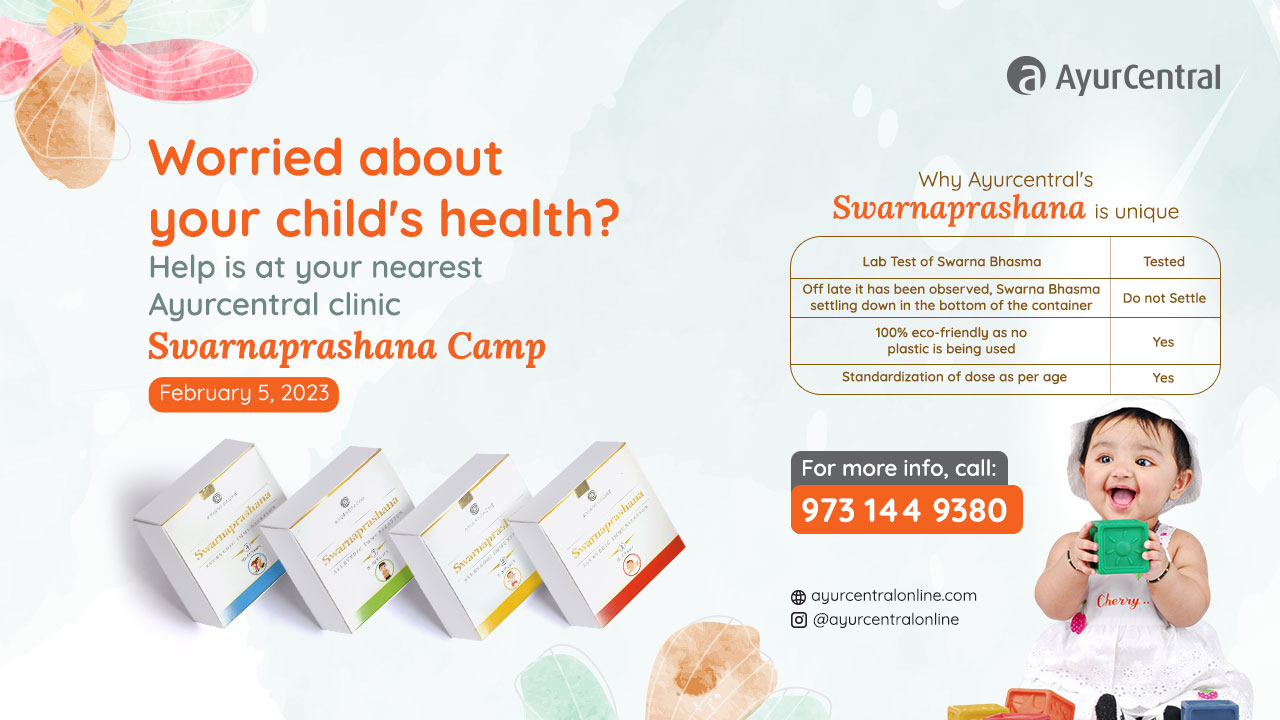 Ayurveda, the ancient Indian system of medicine, has been used for centuries to promote overall health and well-being. At Ayurcentral, we are dedicated to bringing this traditional knowledge to modern times, and our latest event is a testament to this. This Sunday, parents across Bangalore can exclusively access Swarnaprashana administration for their babies at our clinics.
Why is Swarnaprashana good for your infants?
Swarnaprashana is an Ayurvedic mix that is traditionally given to infants and young children. It's prepared from a mixture of herbs, cow's ghee, honey, and edible gold. It builds strength, improves health, and promotes overall well-being. It's also known to have the following benefits in children.
Boost their immune system
Improve physical and mental development
Enhance memory and concentration
Prevent diseases and infections
Why should you attend our Swarnaprashana Camp?
At Ayurcentral, our practitioners are knowledgeable and experienced in the traditional Ayurvedic methods. By attending our camp, you will have the opportunity to learn about the benefits of Swarnaprashana and how it can help boost your immunity. Our doctors will be on hand to answer any questions you may have and guide you through the process.
Moreover the Swarnaprashana administered by us is lab tested and 100% eco-friendly as we don't use plastic. Off late Swarnaprashana by many brands are known to settle down inside the container, which shows its low quality. Ayurcentral's Swarnaprashana doesn't do that as all our products are by brands that are natural and quality-driven. We also maintain standardisation of doses as per the age of the children.
Mark Your Calendars!
Our Swarnaprashana event will be happening at all of our clinics, so be sure to mark your calendars! Don't miss out on this unique opportunity to protect your kids from the onset of various diseases and boost their overall wellbeing.
We look forward to seeing you at Ayurcentral for our Swarnaprashana camp.
Call us at + 91 9331449380 to do your bookings!
Follow us at @ayurcentralonline (Instagram) and @AyurCentral (Facebook) for regular Ayurvedic updates.